Invoking Divine Energy Through Sanskrit Mantra
Presented by Richard Holmes
A weekly group chanting session where we practice invoking wonderful, Divine energies through mantra chanting. All welcome!
---
| | |
| --- | --- |
| When: | Every Tuesday 6-7pm until 16th Dec 2014, resuming 13th Jan 2015 |
| Where: | Wellington City, Wellington (see below for the venue address) |
| Cost: | Free |
---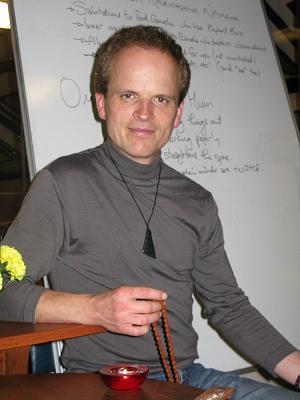 Mantras are one of the simplest ways to connect to the most lofty and Divine energies that we can access. These great Divine powers are truly life changing and there is no problem that they cannot help with. This Divine energy stream is the road to enlightenment, and is always waiting for us.

The mantras selected here follow the work of Satguru Sant Keshavadas, a very wise and yet warm-hearted Indian saint who passed away in the late 1990s - and his great student Namadeva Acharya (Thomas Ashley-Farrand) who just passed away in late 2010. As a student of Namadeva's, I was given permission to start teaching these mantras in New Zealand and I make them freely available.

I've been truly awed by the real changes that can be made and tangible energy that can harnessed by mantras. If you ever thought that mantras were nothing more than an aid to relaxation prior to meditation, it's time to think again.

People who are sensitive to energies will easily feel the mantra energies, and yet anyone can notice the difference if they simply relax as much as they can and tune into the cosmic sounds.

Mantras can be used to bring in all kinds of positive energies into a person's life - for healing, good luck, intuition and more. At the more intense end of the spectrum, mantras can also activate stronger energy flows in the body and even surges of kundalini (when using more powerful ones).

For almost any goal in life, there is a mantra which can bring in the energy to help. While the energy can often be quite subtle in initially, the more time and focus a person puts into repeating them (either out loud or mentally), the more the results will manifest. So don't think that any issue you have cannot be resolved - there is always something that will help.

Mantras have until recently been a subject mostly shrouded in secrecy in India where teachers and priests would jealously guard them. Nowadays however, with the new spirit of openness that seems to be moving worldwide, all kinds of mantra are being published openly in books & CDs and are becoming much more accessible.

The mantras mostly work with Hindu deities, though it's often best for westerners to regard them as "superpowers of the angelic kingdom" which are infinitely closer to the divine Source than we are. Having worked with them at length, I can assure you that the effects are highly benevolent and positive for your spiritual growth. All the great sages and saints of India have worked with these same mantras to help them on their spiritual ascent - though people most certainly do not need to be Hindu to connect with these wonderful lofty energies. They are available for the benefit of all.

Here are some of the areas the mantras can work on. While these seem very down to earth, the mantras are also work at the most dizzying heights too. These are just examples.
- Support, assistance, abundance and good fortune
- Attracting good friendships
- Beauty
- Conquering fear and doubt
- Creativity and inspiration
- Discipline and study
- Experiencing the pinnacle of Love
- Health and healing and even becoming a healer
- Love and joy
- Physical strength and stamina
- Protection from difficult circumstances
- Psychic abilities
- Raising your income
- Relieving stress and nervous tension
- Relieving anger and irritation
- Removing obstacles when your path seems to be blocked
- Teaching, both attracting good teachers and becoming a teacher
- Wisdom

These weekly sessions are a way for people can tune into various mantra energies and learn more about them - plus to feel the extra energy generated when mantras are chanted in a group.

Each Tuesday we get together, people can ask questions and then we choose a list of mantras to practice and we invoke those energies.

(And the Theosophical Society has been generous enough to allow me to use their space without cost to hold these weekly sessions.)

People are welcome to come along any Tuesday they have free - and newcomers are most welcome of course. For people who like to take notes, it's a good idea to bring a pen and some paper. It's also not a problem if people come in a little late either, but it's best to come on time if possible.
---
Venue:
6pm-7pm (upstairs meditation room)
The Theosophical Society
19 Marion St
Central Wellington
---
Contact details:
Richard Holmes - (04) 934-5969
richard@pastlifehealing.co.nz
http://pastlifehealing.co.nz
---
Categories: Mantra, Healing, Hinduism, Yoga